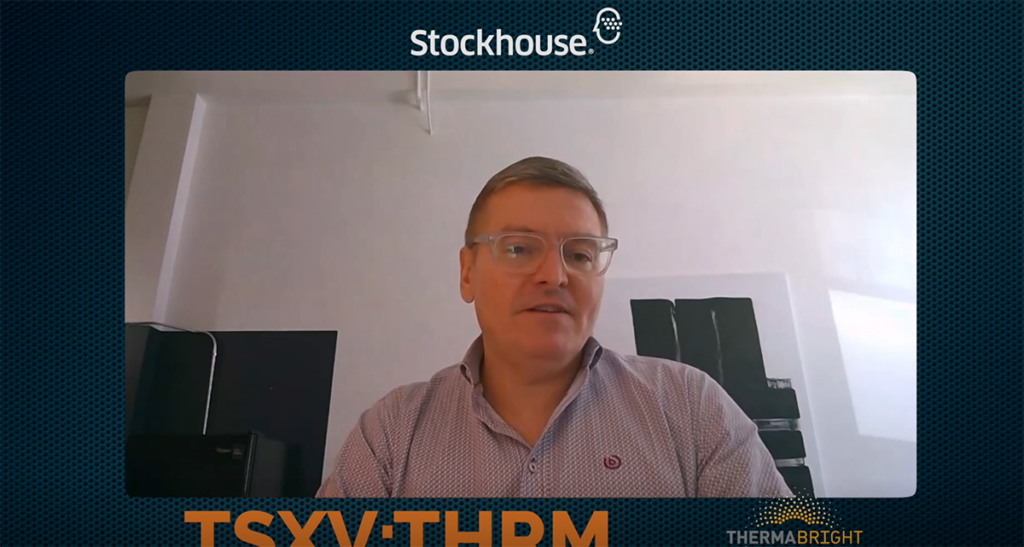 While the tide has turned in many countries in battle against the COVID-19, the global pandemic is far from over in countries like India, for example. Thus, the need for quick, reliable COVID at-home testing is still existential.
Therma Bright Inc. (TSX-V:THRM, OTC:THRBF, Forum) is a progressive, R&D medical device technology company focused on providing quality medical devices that address peoples medical and healthcare needs. Amid the shock and sudden stop to our normal lives, Therma Bright pivoted its business – using its expertise in medical devices – to develop a possible game-changing technology called AcuVid™ – a rapid, at-home antigen test for detecting the coronavirus in saliva.
In this timely and topical investor video podcast, Stockhouse Media's Dave Jackson was joined by company CEO Rob Fia to talk about the real time need consumers require for rapid-at home COVID testing, along with the incredible array of ancillary products this forward-thinking company is bringing to market…and making a difference.
TRNASCRIPT BELOW:
SH: To start off with, Rob, can you tell us a little bit about yourself and the history of the company?
RF: I was an investment banker for 20 years investing in various companies, mining, oil and gas, and medical devices, Therma Bright, which was also known as the Jenex Corporation was one of the companies we invested in, we thought they had some really cool technology with their cold sore product. In 2014, I actually took over the company, brought on a new board, new management team, and we basically turned the company around. They had over four and a half million dollars of debt, which we resolved through a shares for debt transaction. They had over 2 million in payables, which we settled with the suppliers. We actually extended our patent portfolio and our trademark portfolio.
We have an insect device called Therozap. We've tested that against the Zika and Dengue, which is really exciting because we had some good success, and we'll continue on with testing of that in the near future. And then we bought Saringer Life Science Technologies Inc's products, which are the Venowave product and the Benepod. I think I did a little show and tell last time, here's the Benepod (demonstrates). It's a really cool device cycles back and forth between hot and cold, and then the Venowave, which this product goes on the calf area and actually prevents blood clots. You can go to the website obviously, but that's what it looks like in terms of how you set it up on the calf and this is pretty big for after having surgery where the incidents of clots increase as well as accidents. So we've got some demand actually we'll talk about later.
SH: Looking at YOUR sales verticals, how large is the current market and how high is the ceiling?
RF: Well, I think it's a big market, the testing market right now from Grandview Research , this comes from them, it's upwards of $84.4 billion USD with a compounded annual growth rate of 3.1% from 2021 to 2027. So it's a big market. We want a slice of that market. We think we can grab a decent slice with our technology, and I'll talk about what we've done to kind of appeal to the masses here. Very important, especially when it comes to cost.
SH: Can you talk about some of your strategic partnerships?
RF: We've got some great partners. We've linked in with nanoComposix, These guys are out of San Diego, California, great team over there. The entire team from management down to the scientific researchers. They helped us. They've done a lot of work with companies all over the world with lateral flow test, which is basically this style of test, that pregnancy style looking test. They were fantastic in designing the strip – that's the secret sauce here – that strip within this cartridge, with our team being able to come up with a test that actually works very well. We've got a decent sensitivity at 86% sensitivity, the specificities at a hundred percent. We've shown that in our latest studies that we can increase that, the clinical study that will be coming out shortly, we'll talk more about the specifics of that, but it's very exciting. That's one group.
The other group is out of Brazil, the federal University of Minas, Gerais. Two great scientists there that have helped us move through that validation stage and into the clinical study, which we expect to complete sometime this week, which is great news, Dave. And they've been tremendous to be able to introduce us to hospitals, doctors, nurses, that quite frankly, I don't think I would have been able to do here in Canada and the cost would have been astronomical, a huge advantage, great team there.
The other wonderful group we've linked in with is Ridge Global Group. Tom Ridge runs that company.
SH: Is that Tom Ridge, the former Secretary of Homeland Security?
Correct, the Former Governor of Pennsylvania. He's got a number of great team members on that team. They've actually opened up the ability to bring in partners to help manufacture, sales partners with the McWilliams collective, as well as a technology company called the Afero. We put this out in a press release, that'll help us make this product smart, enabled. So we're kind of covering off all the basis here and we're very excited because I think you're going to see a lot of sales opportunities with Ridge as well, actual partnerships, which is key because it's great to design a product. but you have to be able to scale this. And I think we're ready to do that.
SH: Rob, COVID-19 vaccines have proven effective. However, a small percentage of people who are fully vaccinated will still get COVID-19 if they're exposed to the virus that causes it. How does your testing make a difference?
RF: There is a small percentage that will get COVID. So it's important to continue testing, but let's also focus on the people that aren't getting vaccinated. I mean, there's a lot of people that don't want to get the vaccine. That's their prerogative. Bottom line is we will help with the screening of individuals that enter businesses, schools and entertainment facilities, sporting venues, etcetera, and the key is being able to catch those early on. I think our tests works very well at certain CT values. The PCR test works well and a lot of different CT values. Some of them don't portray the right result, especially if the CT values are very high, you're picking up dead virus. You want to pick up virus with lower CT values, when you know the individuals are in that stage of spreading and our test seems to work very well with these lower CT values. So it's going to be a great screening tool for the masses to be able to get back to work back to school, back to having fun, you know, and going to a baseball game or a hockey game.
SH: Can you update our investor audience and your Therma Bright shareholders on any important new company developments?
RF: So right now we've got the clinical study that I think is very exciting for us. It's been a long haul to get here. We want to get those results out and then submit that to the regulators so we can get approval to sell the product. The other interesting development is we've got a lot of customers around the world calling us for this rapid antigen saliva test. So I think that's exciting to have the customers call and ask, "When is it ready and how many can you send us?" The other thing is our other products. We're a multi-faceted company with many other products and, you know, Venowave being one of them that we've entertained interest from a group out of the US that sold a competing product, and they are looking at teaming up with us to distribute the Venowave into hospitals, surgical centers and these are these are big networks in the US that can turn into a money-maker on its own with that product and they're also looking at the Benepod as well.
SH: You've recently provided an update on the company's aforementioned Brazilian clinical study. Can you unpack the benefits of this study for our investor audience?
RF: So the study will see how we do in terms of sensitivity. We think it will be higher than 86%, we hope to keep that specificity at a hundred. So we'll do upwards of 150 patients in Brazil. The infection rate is higher there, so it may not take that many to get what we need, (which) is 30 positives and 30 negatives out of that clinical study. So we'll take that data and then we'd use that data for our regulatory approvals. That's really what we've been waiting to do and that gets us into that potential to get into an emergency use authorization for FDA. We did apply for CE mark. We achieved the CE mark that allows us to sell into markets like Europe and middle east. So those are big, big markets for us.
SH: What government approvals is the company waiting for and what's the timeline for approval look like?
RF: Well, because we've been doing the validation and the clinical study in Brazil, the approval we'll need for the FDA is that study submitted, plus a number of other studies that would be submitted. What we've done in the meantime is prepare all those other studies, so we're ready to go with the FDA EUA application. So right after we get the clinical study results, we can take that along with the other studies and submit to FDA shortly thereafter. The exciting news is we'll be able to kind of hit the send button on that all at once. With health Canada you know, a lot of back and forth, we're waiting on some approvals there and once we get that, then we'll submit and finish off our study in Brampton, but for now, basically we're focused on FDA EUA, which is a huge market in the US to sell into, and then we've got the CE, which will allow us to get a lot of interest actually out of Europe right now, so that'll be exciting for us.
SH: What kind of testing products and business metrics differentiates Therma Bright from your competition?
RF: We've got this really cool, simple device, that's quick to produce a result in 15 minutes, and inexpensive. One thing I should point out is that we were using a swab, if you recall this (shows swab) to soak up, this was our collection device. I don't have an actual Spatoon, but we've gone to a Spatoon and that's what it looks like. If I had the device, I'd show it to you. That's a picture of it. So you basically spit into it. You use a pipette, put that into the dropper with the buffer and then you're like I said, in the last video interview, you'd put that into that area there, and you'd get your result in 15 minutes. What that's done for us is reduced the cost considerably here and the key is that we're now able to get interest from business groups, sporting venues, schools, et cetera.
If we can bring the cost down, which we've done now by using different components, that's a huge win for us. Most of the other tests in the market, if you're talking saliva, they're PCR based tests using saliva, which has a time lag involved, and usually a higher cost. So we'll have a huge advantage with this type of a test and the other thing is the other tests are nasal anterior tests, which I think people are getting tired of using that, very uncomfortable, especially the nasal pharyngeal, which goes deep into the nasal area. The other tests that we have is an antibody test, which as the vaccines are rolled out, people will want to know if they have the antibodies. So this test will become more prevalent. I think as time goes on, people want to find out whether or not they have antibodies.
SH: And finally, Rob, if there's anything I've overlooked please feel free to elaborate.
RF: Dave, you know, I would say focus on this clinical study. We're excited to get those results out, right behind that, the FDA-EUA submission, which is very exciting for us, we have customer demand all over the world, as I mentioned. We have one customer that's offered to provide 100% of the cost of the product to get that product in their hands as quickly as possible for schools in Europe, and then I think we've got some great potential with the Venowave product to be able to distribute that in the US and the other point I'd make is that, you know, the company is sitting on about 10 million in operating losses. So as we start generating revenue and cashflow and profit, we'll have a lot of tax advantages going forward.
Source: https://stockhouse.com/opinion/interviews/2021/06/08/why-there-still-dire-need-for-covid-19-testing